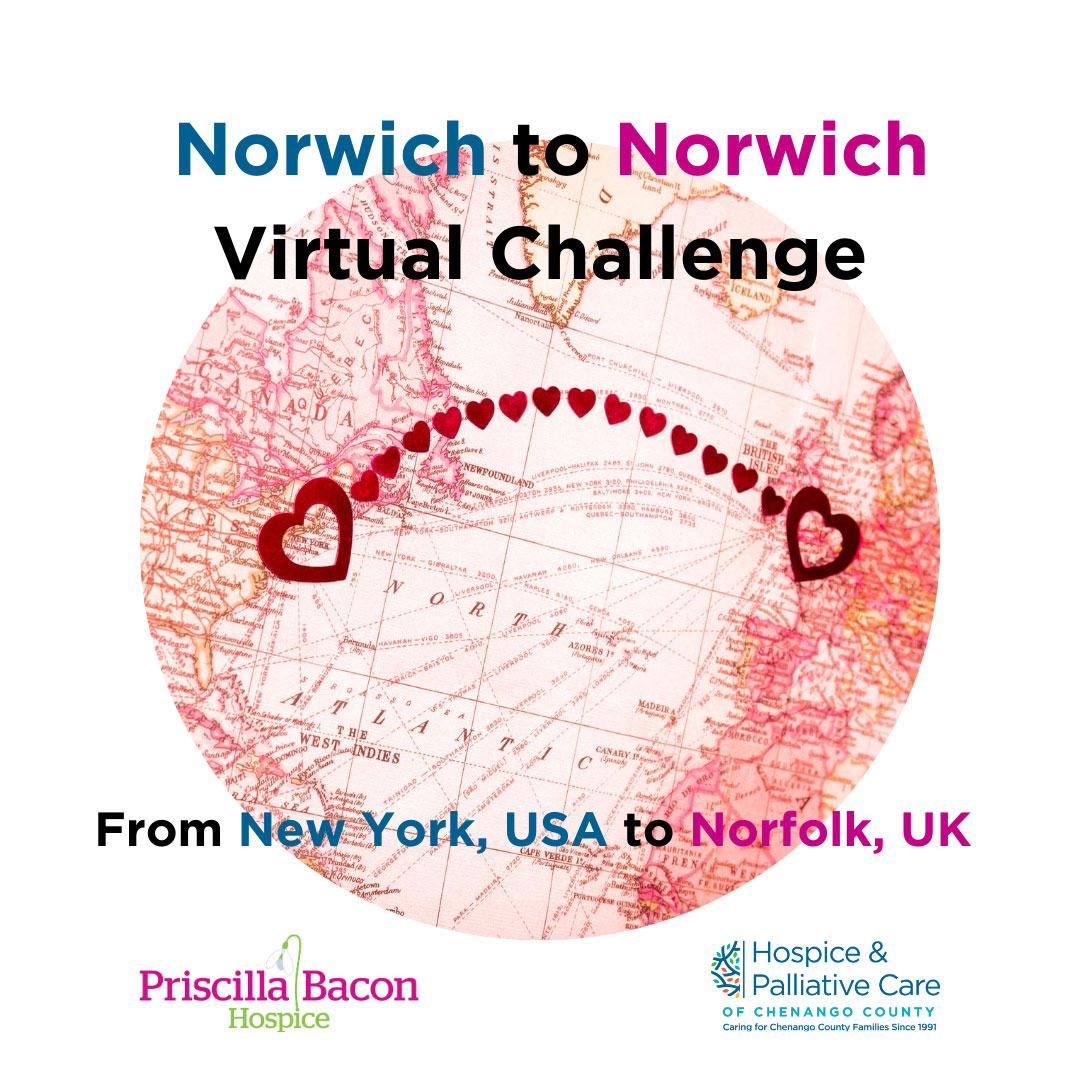 Norwich to Norwich
A Virtual Challenge!
August 1 through August 31, 2020
In collaboration with Priscilla Bacon Hospice in Norwich, UK, come join us in a virtual race for August 2020 to raise awareness of hospice care and to enjoy a little friendly international competition!
You can register below at any time during August and can run, walk, bike ride, row, or crawl! Participants will submit their individual total distances throughout the month, and the goal is for our local competitors to cumulatively cover 3,471miles/5,596km from Hospice Chenango in Norwich, NY, USA, to Priscilla Bacon Lodge, Norwich, UK before our virtual competitors running for Priscilla Bacon Hospice reach our shores!
Participate for only a $20 donation!
All proceeds from our local participants benefit Hospice of Chenango County.
All competitors will receive a medal to commemorate this 1st ever event for our organization!!
Are you interested in making a contribution to support our organization, but would prefer to not participate in the actual race? No problem! Donations of any amount can be made toward Hospice Chenango's first-ever virtual race!
If prompted to enter a Mission Code, please enter: HospNorNY1991
To pay the race entry fee by cash or check, please call our office at 607-334-3556 to register!
Call for Artists!
Light Up a Life Original Ornament Design Proposals
Due by August 24, 2020
Annual Dinner
CANCELLED
Instead, Hospice & Palliative Care of Chenango County will be hosting an exciting online event this fall with the finale on Friday, October 2, 2020!
More information will be available on the website and Facebook soon!
WHV/Staff Flag Placing
On Veterans Day, the We Honor Veterans Program at Hospice & Palliative Care of Chenango County will honor and recognize every Veteran patient cared for by our organization in 2020. Following a brief ceremony where staff and Veteran Volunteers share readings and stories to honor our Veterans, a single American flag will be placed for each Veteran patient around the perimeter of the walkways of the hospice office building.
Tentatively Scheduled for
Wednesday, November 11 at 9:00 am to 10 am
Location: 33-39 Court Street, Norwich, NY 13815
Light Up a Life
Throughout each year, Hospice & Palliative Care of Chenango County has the privilege of working with so many amazing families and members of our community. Please join us as we come together to honor the memories of those we have lost.
Online Event
Thursday, December 10 at 7:00 pm – 8:00 pm
Link: Facebook
Hospice Homemade
CANCELLED
Tentatively Scheduled for
December 2021